How Orthopedic Rehabilitation Can Help
If you have pain or physical limitations and want to feel better, a rehabilitation specialist can give you the proper diagnosis and a comprehensive recovery plan. As specialists in muscles, bones and the soft connecting tissues in the body, we provide non-surgical as well as post-surgical solutions to a multitude of aches and pains that can limit your quality of life.
Injuries happen, but you don't have to accept the resulting pain or restricted mobility as the way it's going to be from here on out. You also don't have to think of surgery as the only option. Many of our patients come to us when they are contemplating surgery, and find the results they were hoping for with our individualized treatment options. We may use medications, injections, and/or therapeutic exercises during your treatment.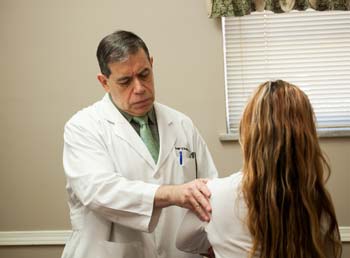 Orthopedic rehabilitation is a crucial step in getting relief from:
Work Injuries
Automobile Accidents
Musculoskeletal Diseases
Nerve Damage from a Stroke or Other Cause
Sports Injuries
Surgery
Chronic Everyday Pain
An injury doesn't just affect one isolated spot on your body. Especially when pain becomes chronic, our bodies may compensate with inflammation, changes to our gait or limited usage. Just restricting movement because a particular part of your body hurts has consequences; so, working with a reputable doctor who takes the entire picture into account ensures that you get the most out of orthopedic rehabilitation.Dr. D'Auria will look at the way your body moves, perform state-of-the-art diagnostic testing, and design a treatment plan that addresses the source of the problem and its effect on the whole body. We'll help you define goals and work towards them.
At Rehab Orthopedic Medicine, we help by alleviating your pain and so you can return to your pre-injury level of functioning as quickly as possible.
Non-Surgical Versus Surgical Treatment
For orthopedic pain, non-surgical treatment is often your best first-line option.
It's not easy to get a clear answer when comparing treatment options because medical service providers tend to recommend their own approach. Surgeons recommend surgery. Nutritionists recommend a change in diet. And, non-surgical groups like ours will likely suggest something non-surgical.
The fact is, there is no single right answer that applies to every injury and condition. Even though we strongly believe in non-surgical diagnostics and treatment, we know that there are times when other approaches may be necessary. For orthopedic pain, however, non-surgical treatment is often your best first-line treatment. Let's look at why:
So, what exactly is non-surgical treatment?
We may use medications, injections, therapeutic exercises, and and referral for physical therapy as part of your treatment plan. Non-surgical treatment options include:
Medications to reduce pain, swelling, and muscle spasm while your body heals
Trigger point injections
Use of ice to decrease inflammation in the tissues
Training in proper body mechanics and correct posture
Corticosteroid injections in more serious cases
Active physical therapy for strengthening and reconditioning of the injured areas
When is Non-Surgical the Best First-Line Treatment?
Only thorough diagnostic testing will truly tell us if surgery can be avoided. We regularly treat the following conditions:
Injuries to the musculoskeletal system
Fractures and dislocations
Sprains, strains, and torn ligaments
Back pain, neck pain, ruptured discs
Joint pain (knee, ankle, hip, shoulder, elbow)
Arthritis and bursitis
Osteoarthritis of the knees
Benefits of Non-Surgical Treatment
Obviously, the less invasive a treatment is, the faster your recovery is going to be. As a result, arthroscopy has grown in popularity, often turning surgery into an outpatient procedure that requires less anesthesia and produces less overall risk. Here are the key benefits of avoiding surgery altogether:
No surgical recovery time; decreased time off from work
Minimal discomfort
No hospitalization
No incisions, scars, or post-operative complications
Less pain
We believe that non-surgical treatment is the next logical step in the evolution of medicine. Contact us today to discuss your options.