Our physical therapy center is staffed by a licensed physical therapist who has extensive experience in orthopedic rehabilitation. We are fully equipped with cutting edge rehabilitation tools including state-of-the-art Med-X spinal rehabilitation equipment that has been shown to produce positive outcomes even in patients who have had poor results from previous surgery or other forms of treatments. Each patient is individually evaluated and started on a treatment program designed specifically for them. The patient's course of treatment is physician-monitored and will be modified as needed to achieve optimum results.
Physical therapy is a conservative treatment method that addresses pain relief, healing, and restoration of strength and function. Our therapists also provide training in ergonomics, proper body mechanics, pelvic stabilization, and joint protection principles to prevent additional injury in the future.
The Sports Medicine Approach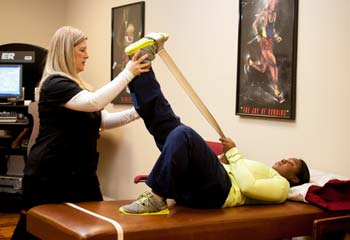 At Rehab Orthopedic Medicine we use the sports medicine approach, utilizing the most modern equipment available today. Studies have shown that 80 percent of back/neck pain is the result of muscular, not spinal, problems. Injury and overexertion often result in damage to the soft tissue (muscles, tendons and ligaments) that move and support our spine. A weak, overburdened muscle will often go into spasms, upsetting the balance of the complex network of neck/back muscles that work together to complete even simple daily activities. Muscles that remain weak for an extended amount of time lose the ability to function properly, causing other muscles to compensate for this imbalance. The result can be a chronic pain problem.
Physical Therapy Treats Both Pain and Physical Limitations
If you've ever had a serious injury or accident, you've probably been referred to a physical therapist. Along with being a routine part of post-operative care, however, physical therapy can be used as a first-line treatment for many conditions. It can help you get pain relief, but also restore function, flexibility and even balance.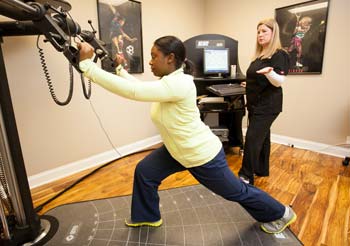 Our state-of-the-art diagnostic equipment lets us get an accurate view of the cause of patients' pain or physical limitations. Then, we put together a strategy to address the underlying problem. We can address pain in the soft tissues, build muscle strength and endurance, and improve flexibility, function, coordination and range of motion. In cases of severe disability, we can also help patients with special equipment, mobility and safety.
While you may picture a physical therapist simply guiding exercises, there is really much more we can do. We offer a wide assortment of Individualized Treatment Options including the use of state-of-the-art Med-X rehabilitation equipment, diathermy and traction. In many cases, we can help patients avoid surgery and the risks associated with it.
The following is a partial list of ailments physical therapy can treat:
Arthritis
Back Pain
Carpal Tunnel Syndrome
Disability
Dislocations
Fractures
Joint Pain
Migraines
Muscle Weakness
Neck Pain
Nerve Damage
Neuropathy
Ruptured Discs
Sciatica
Torn Ligaments
Whiplash
Know When It's Time to Resume Activities
After a patient starts to feel better, they are often anxious to get back to normal activities. A physical therapist can do specific tests to affirm when a patient can return to those activities without risk for re-injury. This type of evaluation may be necessary to get back to work. Even in the case of minor injuries, however, it is important to get the "all clear" to avoid turning an acute problem into a chronic one. Orthopedic rehabilitation can help you avoid the Cumulative Injury Cycle.
We are a partner in your recovery, and part of the team of doctors responsible for you care.